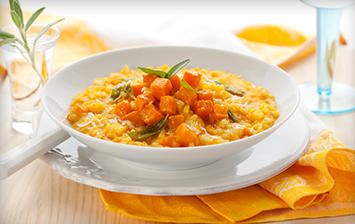 Ingredients
2 tbsp olive oil
400g pumpkin, cubed
1 onion
2 cloves garlic
250g Arborio rice for risotto
250 ml white wine
1 tsp thyme fresh
900 ml vegetable/ chicken stock
1 tbsp butter

Method
Firstly turn on your Russell Hobbs Multi Cooker and select the porridge/risotto program.
Finely chop the garlic cloves, onions and peel and chop the pumpkin into small cubes. Place them into the Multi Cooker and sauté for around 10 minutes until the onions have softened.
Add the rice and stir well. Close the lid and allow to cook for 3- 4 minutes.
Add the wine, stir well and again allow to cook for 3-4 minutes.
Add the chopped thyme and stock then leave to cook until the programme ends.
When the program has finished, test the rice to make sure it is cooked – it should have a slight bite to it but shouldn't be hard. If not quite done add a little water and extend the cooking time for a couple of minutes.
Stir in the butter – this gives the risotto its shine. Serve with a sprinkle of thyme.