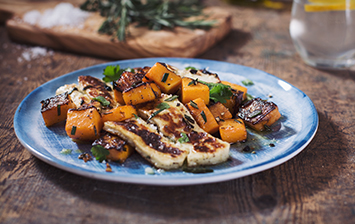 Ingredients
200g butternut squash, peeled and chopped into chuncks
2 tbsp olive oil
1 clove garlic, sliced
2 tbsp chopped fresh rosemary
Salt and freshly ground black pepper
100g, sliced
1 tbsp olive oil

Method
Place the butternut squash, olive oil, garlic and fresh rosemary into a large bowl, season, to taste, with salt and freshly ground black pepper and mix together.
Heat a frying pan over a low heat. Add the butternut squash mixture and fry gently until cooked through.
In a separate frying pan, heat the oil over a medium heat, add the halloumi and fry for two minutes on each side, until golden-brown.
Serve the butternut squash on a warm plate with the fried halloumi on top.