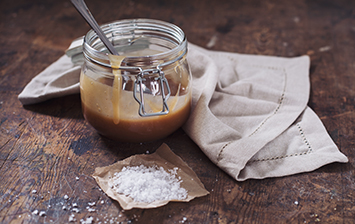 Ingredients
100g white sugar
60ml water
50g butter, cubed
50ml double cream
1/2 tsp flaked sea salt

Method
Put the sugar in a saucepan and pour over the water. Set over a medium heat and stir continuingly.
Once it turns a deep, but not dark, amber colour (about seven minutes), take it off the heat and whisk in the butter until it is completely melted, then stir in the double cream and ½ tsp salt.
Once you have a smooth sauce, take off the heat and allow to cool.