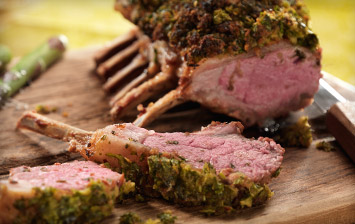 Ingredients
2 French-trimmed racks of lamb
For the crust:
Small bunch flat leaf parsley
Small bunch fresh oregano
1 tsp. capers
4 tbsp. olive oil
2 tbsp. Red wine vinegar
¼ tsp. chilli flakes
Handful dry white breadcrumbs (around 20 grams)
Sea salt & black pepper
For the potatoes
500g baby new potatoes, halved
3 cloves of garlic crushed
150g mini chorizo cooking sausages, sliced
A tbsp. good olive oil
For the garnish
Large bunch asparagus spears, trimmed
1 tbsp. balsamic glaze
2 tbsp. freshly grated Parmesan

Method
Preheat your Purifry to 200°C. Take the halved new potatoes and add the minced garlic, oil and a good turn of salt and pepper in a bowl and mix well. Place in the Purifry and cook for 10 minutes.
Drizzle the lamb with olive oil and season with salt and pepper. Heat a large frying pan over a high heat, add the lamb racks and sear for 3 to 4 minutes until golden brown all over. Remove from the pan and set aside to cool.
For the crust – place the parsley, oregano, capers, chilli flakes, oil and vinegar in your Russell Hobbs Food Processor and blitz till smooth. Add the breadcrumbs.
Cover the lamb racks in the crust mixture. Then using the Purifry dish divider move the potatoes to one side and slot in the divider and stir in the chorizo. Place the lamb in the other compartment of the Purifry and cook everything for 10 to 15 minutes then transfer to a warm plate to rest.
Blanch the asparagus in a large pan of salted boiling water for 2 to 3 minutes then drain thoroughly. Drizzle with the balsamic glaze and a little olive oil and sprinkle with the Parmesan.
Carve the lamb into the cutlets and serve with the potatoes, asparagus and reserved sauce.
A feast indeed!