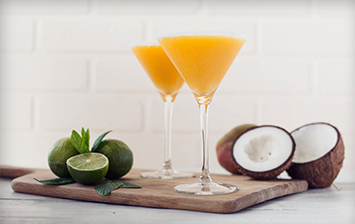 Ingredients
1 mango, cubed and frozen for at least 30 minutes
120ml lemon soda
120ml coconut milk
40ml lime juice
2 tbsp. sugar
1 tsp finely shredded coconut
¼ tsp salt
5-8 ice cubes
Slices of lime for garnish

Method
Add the mango, soda, coconut milk, lime juice and sugar to a jug blender and blend until completely smooth.
Combine the shredded coconut and salt on a plate, run a lime slice around the rim of the glass and dip it in the mix.
Serve the mango mix in the dipped glasses and garnish with the lime slices.