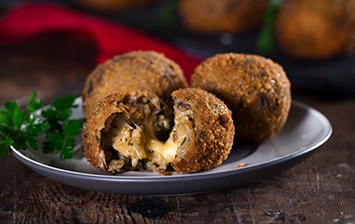 Ingredients
70g Arborio rice
10ml olive oil
½ onion, finely diced
20g parmesan, grated
½ bunch fresh parsley
125g wild mushrooms, cut into small pieces
½ mozzarella ball
80g butter, diced
350ml vegetable stock
Seasoned flour
2 large free range eggs, lightly beaten
85g breadcrumbs

Method
Makes approx. 10
In a pan of boiling water cook the rice for 6 minutes, drain, run under cold water and set aside.
In a separate clean pan heat the oil and add the onion, cook for 2-3 minutes, add the mushrooms and cook for a further 5-6 minutes.
Add the rice and stir. Stir in the butter and stock and bring to the boil, then turn down the heat to allow the rice to simmer until cooked through. Stir in the parmesan and parsley and put on a flat tray and leave to cool completely. Refrigerate for 1 hour.
Divide the rice into 10 equal quantities and with a piece of mozzarella in the middle roll into balls. Refrigerate for 20-30 minutes.
Put the seasoned flour, eggs and breadcrumbs in separate bowls. Take each ball and dust it in the flour, then in the egg and roll in the breadcrumbs.
Cook in a fryer at 170C until golden brown.