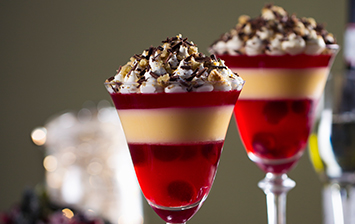 Ingredients
For the jelly:
400ml prosecco
120g caster sugar
150g fresh cranberries
9g gelatine leaf
For the custard:
120ml whole milk
120ml double cream
½ vanilla pod or 1 tsp vanilla extract
6 free range egg yolks
80g caster sugar
1 ½ tsp corn flour
For the cream:
150ml double cream
1 tbsp icing sugar
1 tsp vanilla extract

Method
Makes approx. 2 trifles
For the jelly
Put the glasses that you are going to put the trifle in, in the fridge.
In a pan put the prosecco, cranberries and sugar and bring to the boil, turn the heat down to a simmer and slowly reduce the liquid by approx. a ¼. Remove from the heat and leave to cool slightly. Pass the mix through a fine sieve and keep a few of the nicest looking cranberries to set in the jelly. The rest can be blended for cranberry sauce.
Take the gelatine leaves and place in cold water until soft, once soft remove from the water and in a small pan heat gently until comes to a liquid. Stir into the prosecco mix.
For the custard
In a pan add the milk, cream and vanilla and bring to the boil, remove from the heat and allow to cool slightly.
In a bowl mix the egg yolks, corn flour and sugar, add a little of the milk into the eggs and mix well, now add the eggs to the rest of the milk and mix well.
In a clean pan put the custard back on to a low heat and whilst continuously stirring heat gently until thickened. Remove from the heat and allow to cool slightly.
For the cream
In a bowl add the cream, sugar and vanilla, whisk until slightly thickened and put in a piping bag with a fluted nozzle.
First set some of the jelly in the glasses with the cranberries and put in the fridge until set.
Once the jelly has set fully, carefully spoon some of the custard on top and put in the fridge until set, leave uncovered so that a skin forms on the custard, this will stop the next layer of jelly coming through.
Once set spoon some more cranberry mix on top and again put in the fridge to set.
Once set properly pipe some cream on the top and decorate with some chocolate shavings and crushed biscuits.