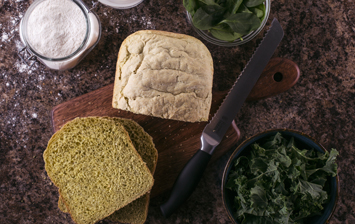 Ingredients
300g water
50g spinach and kale puree
15g (1 tbsp) olive oil
8g (1 ½ tsp) salt
22g (1 ½ tbsp) caster sugar
450g strong white bread flour
5g yeast

Method:



To Make Kale and Spinach Puree:
To make the spinach and kale puree take 200g kale and 200g spinach with all stalks removed.
In a pan of plain boiling water put the spinach and kale for 10 seconds then put straight into iced water.
Once thoroughly refreshed, drain and cook in boiling salted water until its cooked thoroughly, approx. 4-5 minutes.
When cooked drain thoroughly blend until smooth, chill rapidly.
To Make The Super Green Bread:
Place all ingredients in the bread maker in the order listed.
Always remember to put wet ingredients in first, dry ingredients second and finally the yeast.
Bake on Basic Function (1) and select Medium Sized Loaf.